Age Verification
Chopchopchop.co.uk is a responsible online retailer and in order to legally comply with the Offensive Weapons Act 2019 (OWA) we are only permitted to sell knives to customers that are over the age of 18.
We follow the voluntary agreement by retailers that has been revised (6th April 2022) following the passing of the Offensive Weapons Act 2019 : Sale of knives: voluntary agreement by retailers - GOV.UK (www.gov.uk)
When buying a bladed article from this website you are clearly informed that it is illegal to attempt to purchase a bladed article if you are under 18 years of age. You will also make a legal declaration that you are over 18 years of age when you agree to the terms and conditions of purchase during the checkout process.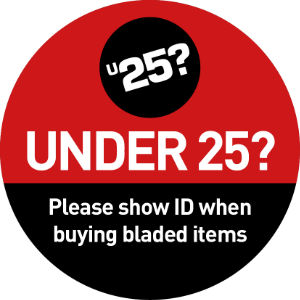 Age Verification on delivery.
All UK orders that contain a knife are shipped using the Royal Mail's Age Verification service and you must also prove you are over 18 to receive your shipment.
If you are ordering a knife as a gift or if you a purchasing a knife that is to be delivered to someone other than yourself, please note they will also be required to provide proof of age in order to receive it, so please consider this when placing your order.
Due to the additional costs of the Age verification service, we have decided to charge a higher price for orders under £10. Orders over £10 are only charged £4.95 for a fully tracked 2-3 day delivery. A faster Tracked 24 service is also available but at a higher cost.
We also offer free shipping on orders over £75.
Age verification is used on all initial orders and any subsequent orders by the same customer account that are being delivered to the same address will be shipped using one of the available tracked services.
Delivery by Royal Mail
Although age-restricted items can't be delivered to a locker or a nominated safe place location, they can be delivered to a Royal Mail Local Collect Post Office / Enquiry Office / Delivery Office, for age verification at collection.
Please do not ask us to leave your delivery in a safe place as will not be able to do this.
Royal Mail will ask you to state your year of birth when making the delivery they may also ask to see a valid photo identification if the recipient appears to be under 25, in line with their UK "Challenge 25" policy upon delivery.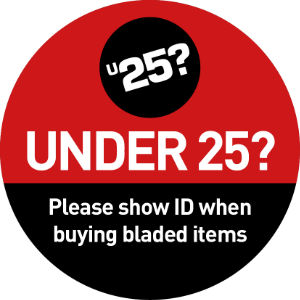 Royal Mail will leave a 'something for you' card following any unsuccessful delivery attempt of an age-restricted parcel and will bring it to the nearest post office for collection with an age verification check. Alternatively, you can use the information on the 'something for you' card to contact Royal Mail to arrange a redelivery.
Photo identification accepted by Royal Mail:
A Passport
A valid driving licence