Monday, 21 February 2022 | Admin
This week people across the world are celebrating the art of breadmaking.
We have some great breadknives for sale that will compliment your homemade loaves.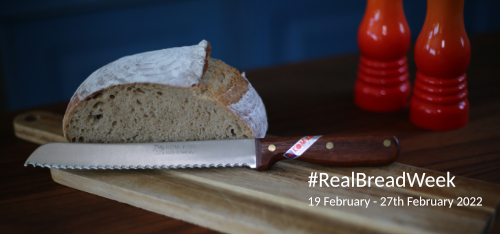 Click the link below to learn more about the campaign.
You can also follow the campaign on social media @RealBreadCampaign on Instagram and Facebook, and @RealBread on Twitter.
What is Real Bread Week?
Created and run by the Real Bread Campaign since 2010, #RealBreadWeek is the annual, international celebration of Real Bread and the people behind its rise. Buy, bake, boost Encouraging and helping people to:
BUY Real Bread from local, independent bakeries
BAKE their own Real Bread We also rattle the collection tin a bit harder for Sustain, to
BOOST the charity behind Real Bread Campaign.
Each year, bakeries, baking schools, mills, schools, care homes, youth and other community groups around the world bake special loaves and run classes and other activities. Meanwhile countless people bake at home, some with their children other family members, colleagues or friends, and take to social media with photos of themselves with loaves they've baked or bought.
Go on and bake or buy some real some bread now, you can also make a doughnation to the charity by visiting the website.
Friday, 14 January 2022 | Admin
We are expecting a stock order from Thailand, that will hopefully be arriving within the next 2 weeks.
There are a few lines of stock that are currently unavailable (see below for a small list of some of the most requested items), so if there is something you are interested in that is not in stock you can click on the "Notify me when this item is available" link and you can request to receive an email as soon as the new stock is added to the website.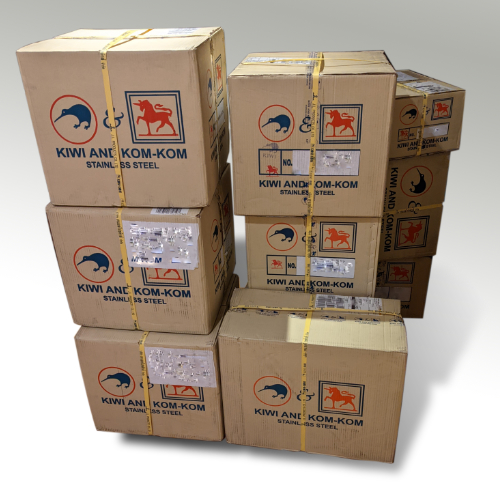 Occasionally we have random open packs, that have been used when updating the website photos, so it may be worth dropping us a message if you do not want to wait and do not mind that the pack has been opened.
It is also worth mentioning that if you have a particular knife in mind that is unavailable, there may be an alternative Kiwi or Kom-Kom version of the same knife available. Read the What is a Kiwi or Kom Kom? - chopchopchop.co.uk article if you unsure of the difference.
Here is a short list of some unavailable items that we are expecting on the next shipment:
Kiwi Brand
275 - 5" Java Knife Wooden Handle
477 -
5" Java Knife Wooden Handle
814 - 9" Chinese Bone Cleaver
840 -
7" Bone Cleaver Knife Wood Handle
Kom-Kom Brand
504kk - 3" Cheese Knife Wood Handle (Kom-Kom)
22kk - 8" Cook Knife Wood Handle (Rectangle Blade)
Monday, 11 October 2021 | Admin
We have a stock order arriving soon from Thailand. There are also postal delays which are particularly affecting non-domestic destinations.
Wednesday, 30 December 2020 | Admin
New stock has arrived from Thailand today with 4 new knives to be added this week.
Saturday, 19 December 2020 | Admin
Most orders are suffering from delayed delivery times at the moment due to the issues that have been caused by the Covid pandemic and the additional Christmas post. There are reports in the media of mountains of mail piling up in sorting offices.
These BBC articles have more information:
https://www.bbc.co.uk/news/amp/business-55263177
Thursday, 17 December 2020 | Admin
The new stock that we were expecting has arrived a day earlier than expected and most has already been added to the website.
Sunday, 13 December 2020 | Admin
We have a small stock order arriving on Friday this week from Thailand. After which we will be back in stock of most of the most popular Kiwi knives 171, 173, 501.
There have been delays to all postal services due to the issues caused by the pandemic. The BBC report here: https://www.bbc.co.uk/news/amp/business-55263177 Reports that Christmas shoppers are getting their online purchases delayed in some cases over 7 days for 1st class.
Wednesday, 16 September 2020 | Admin
We have some new stock arriving from Thailand this week so we should have plenty of the most popular items available to purchase.
Thursday, 16 July 2020 | Admin
We have ordered some new stock and so we will hopefully back in stock of the most popular items within the next week or two.
Monday, 22 June 2020 | Admin
New Stock has now been added to the website, We have also started adding a few new lines.